Foldable Rollable Keyboard 折疊式鍵盤 折疊鍵盤 OEM/ODM Manufacturer in Taiwan China
LC TECHNOLOGY CORP.
---
Color: Red, Blue, Green, White, Orange, Violet/Purple
A great gift for all mobile people-college kids, travelers, etc. Use it outdoors, in factories, restaurants, schools, libraries-anywhere environments are challenging.
Character of foldable keyboard:
*Foldable Keyboard: Folds fast to free up valuable desk space or rolls up and travels well
*Saves Valuable Desk Space: Can be folded or rolled to provide additional space on the desktop to sort papers, sign documents or just have more room
*Spill Proof Design: Silicon membrane protects your keyboard from damage that accidental spills can cause
*Dust Free: Dust damages standard keyboards over time. Sticky or unresponsive keys are a thing of the past with the Soft touch keyboard
*Quiet and Comfortable: Quiet Touch Technology reduces unwanted keystroke clatter and provides a soft responsive touch that will encourage greater productivity.
We can OEM/ODM for change any colors to meet your requirements.
---
---
Multimedia Foldable Keyboard Fold-6000
---
F-7000 Mini USB Foldable Keyboard
---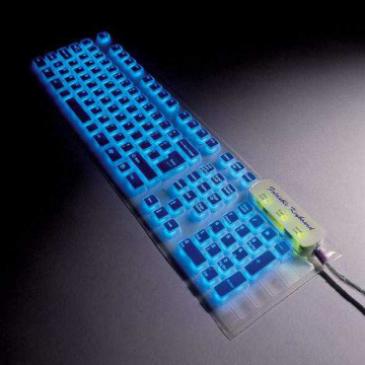 Luminous Foldable Keyboard(EL) Detail
---
FOLD-5000 WIRELESS Foldable IR PDA Keyboard (suitable for every kind PDA)
---
Advantages
| | | |
| --- | --- | --- |
| portable | water proof | splash proof |
| Withstand Splash | washable | spill resistant |
---