BioFlash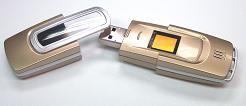 u Category: IT Security Series
u Product Name: BioFlash (fingerprint flash memory – 5 fingerprints)
u Model: BDS-1B
u BioFlash Description:
1. Flash Disk integrates with fingerprint biometrics for high security &
convenience.
2. Fingerprint identification with high accuracy and speed.
3. Storing personal/confidential data, such as PKI keys & company data.
4. Windows 98/ ME/XP/2000 supported.
5. Truly plug & play, no driver required (except Win 98)
6. Multilanguage for : Chinese, France, Germany, Spanish, English
u Features:
1. Fingerprints prevent unauthorized access to data.
2. Easy operation for fingerprint enrollment.
3. High speed of digital conversion and classification (1:N).
4. Use chip based sensor for live-scan capturing of 3D-fingerprint minutiae.
5. Compact, mobile portable and light.
u Software Applications:
1. Access Control: Access allowed only by fingerprint identified.
2. PC-Lock Protection: PC-Lock activated while users are away.
3. File encryption & decryption: File encryption & decryption by fingerprint for particularly important file.
u BioFlash w/USB specs Model No: BDS-1B
| | |
| --- | --- |
| Disk Memory Capacity | 128MB ~512MB |
| Fingerprint Capacity | 5 fingerprints maximum |
| Fingerprint Sensor | Semiconductor Sensor |
| Hardware Interface | USB 2.0 |
| Resolution | 508 DPI |
| Field Size | 236 x 192 pixels |
| Gray Level | 256 levels (8 bits/pixel) |
| False Rejection Rate (FRR) | 1/1000 |
| False Acceptance Rate (FAR) | 1/1,000,000 |
| Allowable Rotation | ± 15° |
| ESD | 20 Kv |
| Scanning Speed | 1 second |
| Matching Speed | < 10ms |
| Dimension | 77 mm (L) x 15 mm (W) x 27 mm (H) |
| Weight | 19 g |
| Operating Temperature | 0℃ ~ 50℃ |
| Operating Humidity | 20% ~ 80% |
| Read Speed | >8M /second |
| Write Speed | >7M /second |